CAUSE
B4B believes in the importance of the one can search for wellness from music to alternative medicine to traditional medicine.
We specifically place a great value on helping those presently in their cancer journey through support groups, programs and more, but also recognize the value of research for prevention and more effective treatments.
With these things in mind, Babes4Breasts donates to a variety of different breast cancer charities through our Babes for Breasts Fund at the Community Foundation of Ottawa.
Who we support locally: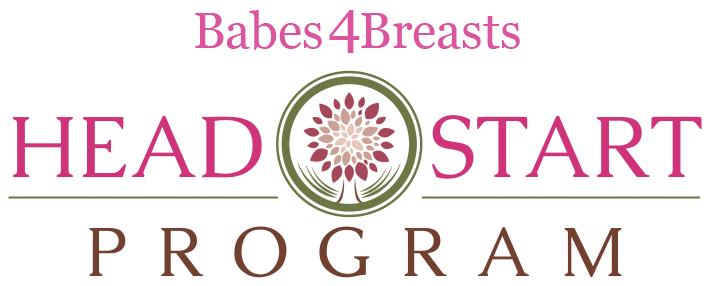 In 2014, the Ottawa Integrative Cancer Centre came to Babes4Breasts with a need: to create a supportive and informative group program for women newly diagnosed with breast cancer. The Babes4Breasts Head Start program was born.
ABOUT THE PROGRAM: The Babes4Breasts Head Start program helps newly diagnosed women feel less alone and confused, and better prepared for what lies ahead. Improved quality of life, reduced side effects, reduced anxiety and depression, increased stamina, and better overall health outcomes are explored through the program's combination of support, empowerment, and hands-on lifestyle modifications.
Through group sessions run over a number of weeks, the women benefit from the expertise of the OICC on a number of issues including cancer navigation, integrative therapies, mind-body work and learning how to cope with aspects of life that may shift as a result of cancer diagnosis. Launched in February 2015, the program has run through two cycles with a third round coming up in early July.
The start up and running of this program is fully funded through the funds raised at the concert, including your crucial support as a sponsor.
Early Effects
The OICC saw significant improvements in both anxiety and sense of wellbeing for most of the women enrolled in the program. 75% of women experienced a reduction in their anxiety, with an average change of 25% according to the ESAS. Simultaneously 88% of the women experienced an improvement in their sense of wellbeing exhibiting a near 30% improvement in this also according to ESAS.
The Head Start program was a lifeline for me during the early days of my breast cancer diagnosis and continues to provide me with much needed support." - Christine
"The Head Start Program is a wonderful program where you feel immediately connected to the other women who are experiencing the same challenges in fighting breast cancer. The support of the group was instant and comforting to me. I would highly recommend this to any woman newly diagnosed with breast cancer." - Patricia

About the OICC
The Ottawa Integrative Cancer Centre (www.oicc.ca), a not-for-profit, registered charity. The OICC is the first integrative cancer care and research centre of its kind in Eastern Canada. The Centre was established to provide the best in integrative cancer care, to improve the quality of life of those touched by this debilitating disease. The OICC actively collaborates with other health professionals and acts as a catalyst for advancing the integration of naturopathic and complementary medicines within the traditional cancer care model. As such, the OICC is the first integrative oncology and research centre of its kind in Eastern Canada. The majority of those who visit the OICC are affected by breast cancer
Allocation of 2013 Funds Ottawa Hospital Foundation Breast Cancer Research Team:
Despite advances in treatment, over 4000 Canadian die each year of breast cancer. The Arnaout- Clemons- Addison team at the Ottawa Hospital is a uniquely innovative program that performs pragmatic patient centered research designed to improve the care of current and future generation of breast cancer patients. This research has already improved the care of many breast cancer patients at the Ottawa hospital.
At present the Arnaout-Clemons-Addison team are exploring the role of high dose Vitamin D in the treatment and prevention of breast cancer in 76 newly diagnosed breast cancer patients. Funds raised by B4B will be used to augment this research. This novel clinical trial offers solutions and treatments to patients in the often anxious waiting period before surgery, as a "window of opportunity" to not only treat the patient with vitamin D, but also to understand what would make a treatment effective against breast cancer. In addition, they aim to also reduce anxiety and empower women affected by breast cancer through their participation in the discovery of novel treatments.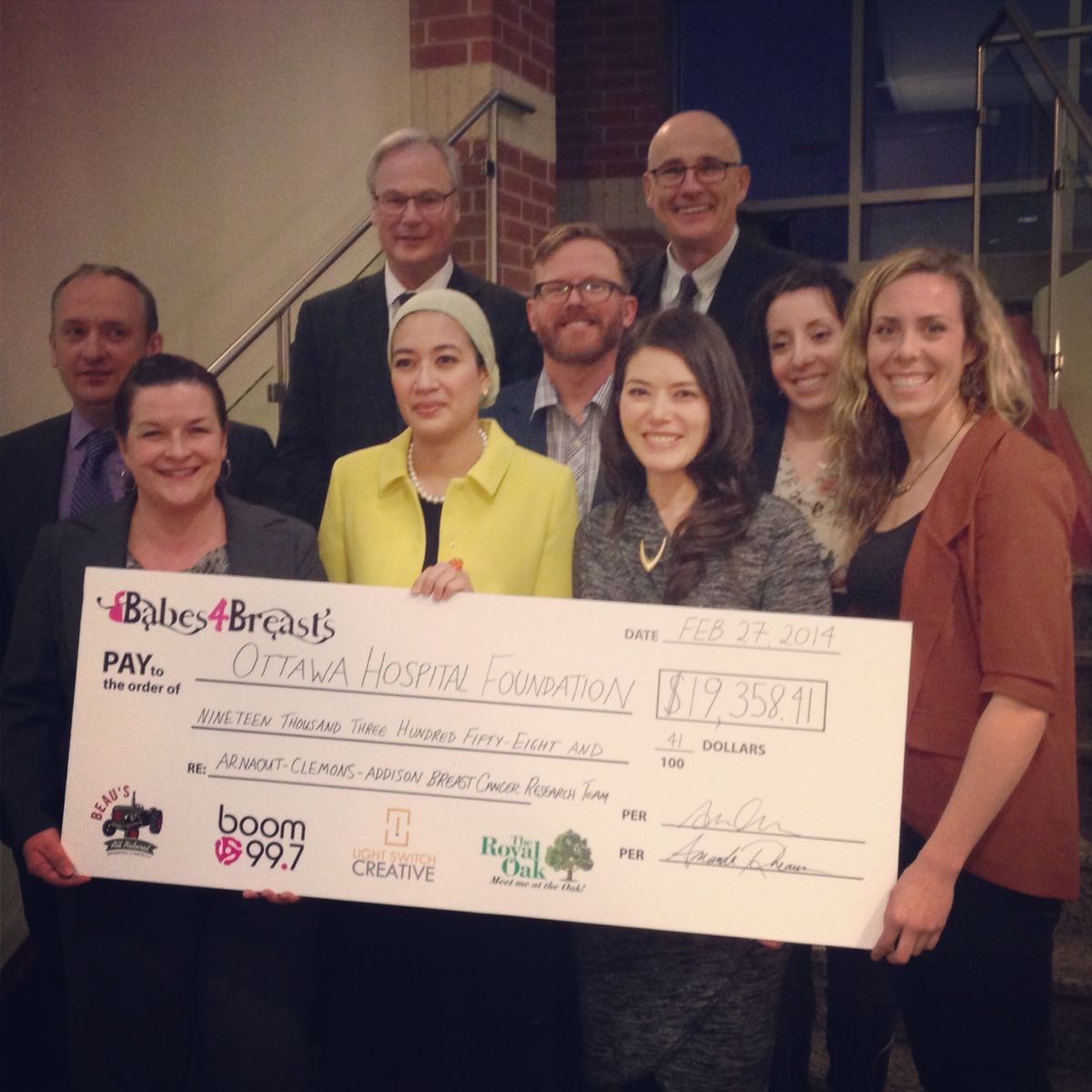 [Babes4Breasts with The Royal Oak, Beau's Brewery and Boom 99.7 FM awarding the Arnaout-Clemons - Addison team, joined by Dr. Jack Kitts, a cheque for $19,358.41 for their work.]
Research will continue into 2015, at which time molecular studies and gene expression profiling will be completed on the tumour samples of the patients on this study and others that will not only identify the mechanism of action of vitamin D but also identify which patients will or will not benefit from vitamin D treatment. It is their hope that a simple yet inexpensive and harmless vitamin, at the proper dose, can play a significant role in the treatment and prevention of breast cancer. The results of this trial will enable us to answer this question and will have enormous impact on breast cancer treatment worldwide.
"Every year, 1000 women in Ottawa are diagnosed with breast cancer. The Arnaout- Clemons- Addison Breast Cancer Research team at the Ottawa Hospital takes a very unique approach to helping patients through this disease, by involving and empowering patients in pragmatic trials that are directly and immediately aimed at improving patients' quality of life and cancer outcomes. The funds from B4B shall be used to augment a practice changing study evaluating the role of Vitamin D in the treatment and prevention of breast cancer. Through this type of research, we are one step closer to a future without breast cancer," said Dr. Arnaout.
To learn a bit more about each of the doctors, please see the links below.
Dr. Arnaout's Rapid Access and Diagnostic Program:

http://www.tomorrowscaretoday.ca/spotlight/

Dr. Clemon's Research Impact:

http://www.ohri.ca/OurResearch/mclemons.asp

Dr. Addison's Research Focus:

http://www.ohri.ca/profiles/addison.asp